J'en parle souvent avec mes patients/clients mais je voulais vous les lister ici.
Tout le monde pense que la balance est le seul indicateur pour évaluer son évolution.
Souvent en voyant le chiffre indiqué sur le balance, on se décourage rapidement et on a l'impression que nos efforts ne paient pas.
Cependant derrière ce chiffre se cache différents facteurs. Ça se trouve le poids affiché peut indiquer plusieurs choses :
Une perte de masse grasse mais un gain de masse musculaire
Résultat d'un effet hormonale (l'approche des menstuations)
Une fonte musculaire
Une rétention d'eau
Un inconfort digestif
Vous l'aurez compris, ne laissez pas le chiffre de votre balance vous dicter l'évolution de vos efforts. Et d'autres méthodes autres que la balance permettent de faire cette évaluation.
Découvrez les 6 différentes manières qui permettent de suivre vos progrès.
I often talk about it with my patients/clients but I wanted to list them for you here.
Everyone thinks that the scale is the only indicator to assess your health progress.
Often when we see the number indicated on the scale, we get quickly discouraged and we have the impression that our efforts are not paying off.
However, behind this number lie diverse factors. It turns out the weight displayed can indicate several things:
A loss of fat mass but a gain in muscle mass
Result of a hormonal effect (menstuation)
Muscle mass loss
Water retention
Digestive discomfort
You get it, do not let the number of your scale dictate the evolution of your efforts. And other methods other than the scale allow this evaluation to be recognised.
Discover the 6 different ways to track your progress.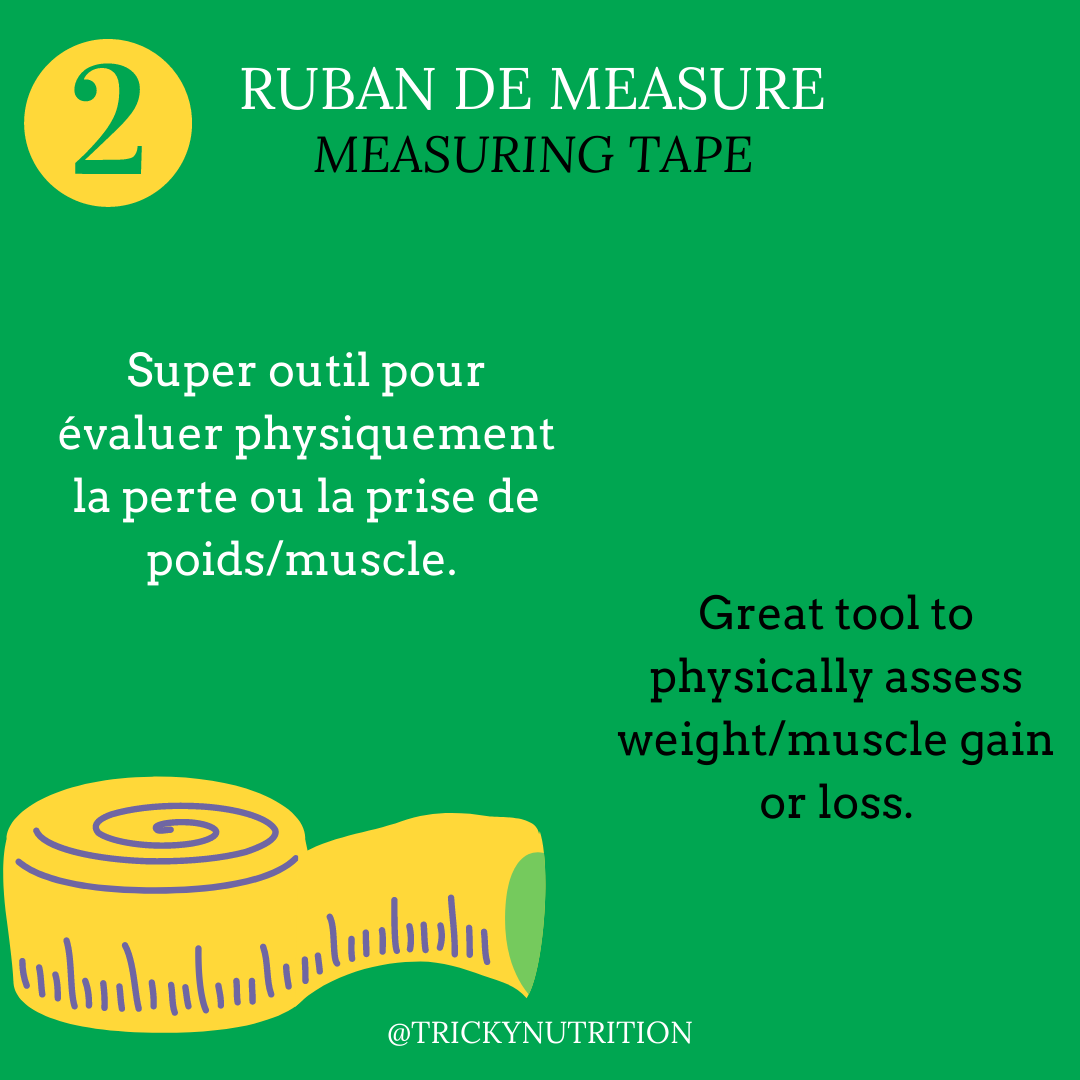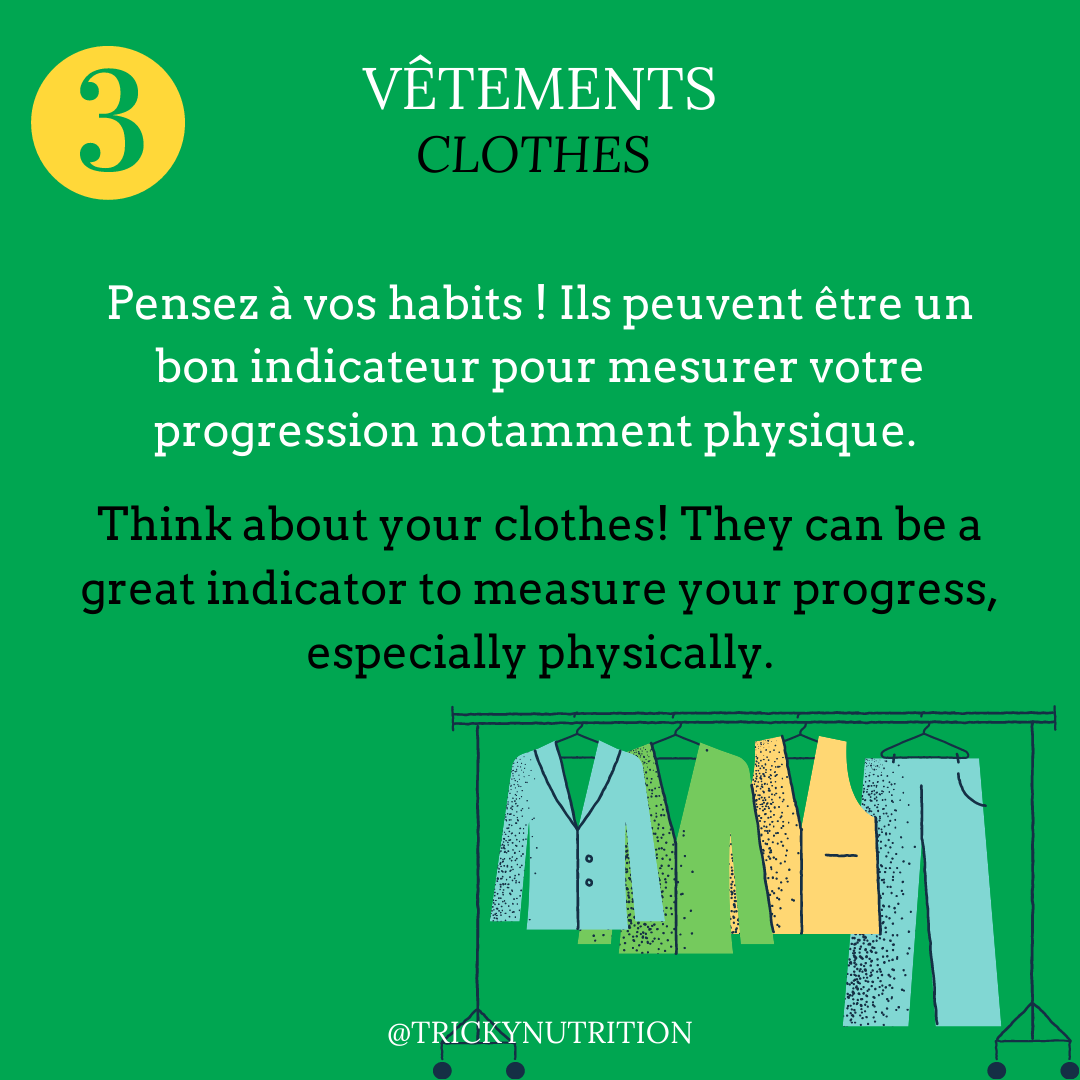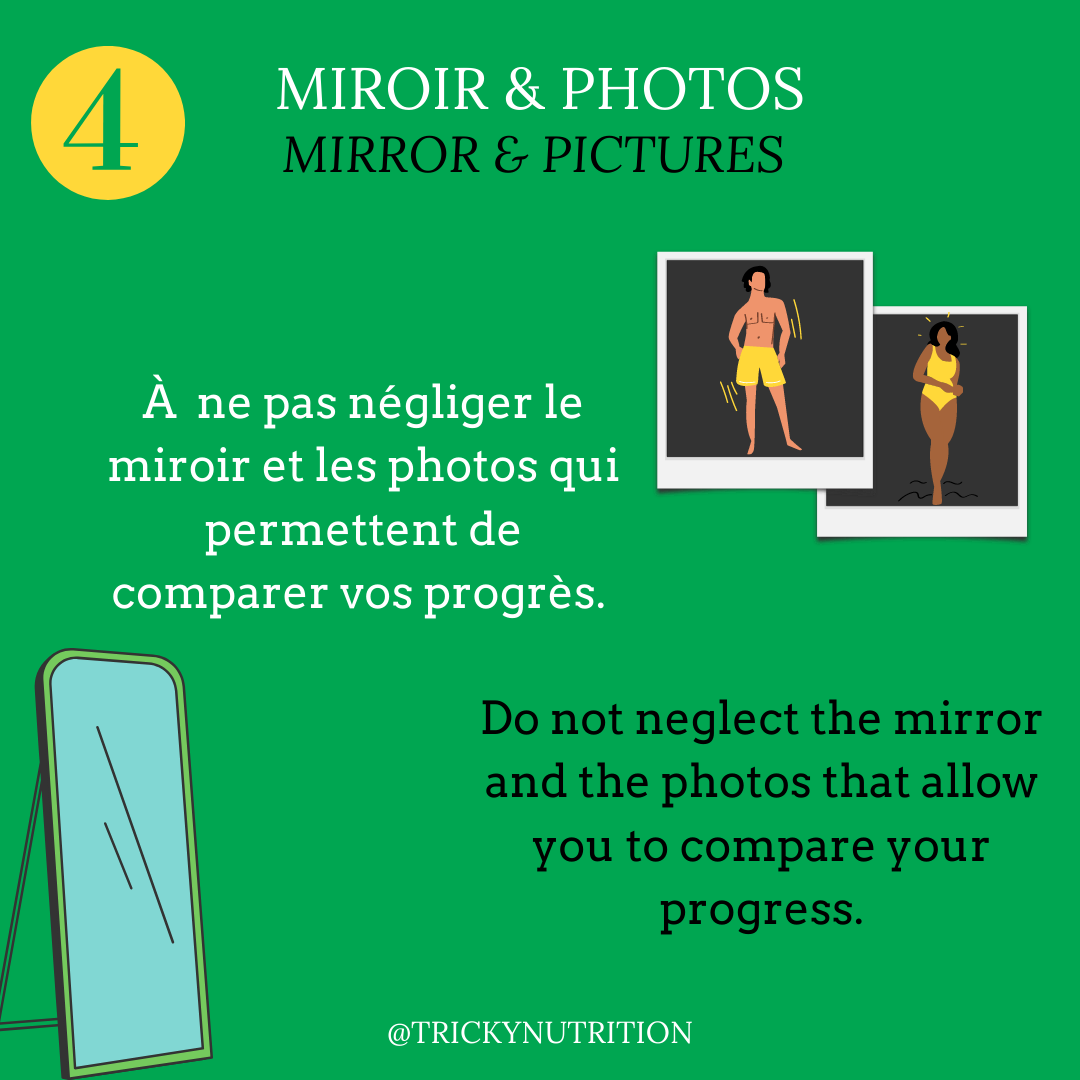 Vous l'avez bien compris il n'y a pas qu'une méthode pour mesurer son évolution par rapport ses objectifs. Utilisez plusieurs méthodes, par exemple la balance et les vêtements ou la balance, lees mesures de la taille/hanche/bras/cuisse et le bilan sanguin…
Donc considérez les différentes manières pour évaluer vos progrès. Et n'abandonnez pas ! 💪
As you might have understood, there is not just one method to measure your progress in relation to your goals. Use multiple methods eg. scale and clothes or scale, waist/hip/arm/thigh measurements and blood test…
So consider the different ways to assess your progress. And don't give up! 💪